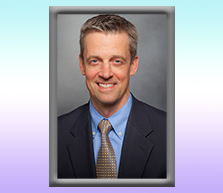 Introduction
In December 2015, our organization, Kaiser Permanente, announced plans to open an independent Kaiser Permanente School of Medicine in Southern California. I have had the privilege and pleasure to serve on the Planning Curriculum Committee since February 2016. Germinating from a seed planted in the fall of 2008, Kaiser Permanente has been pursuing the establishment of a School of Medicine the last several years as part of an ongoing effort to be a leader in meeting America's demands for 21st century health care. Kaiser Permanente's mission is to provide high-quality, affordable health care services and to improve the health of our members and the communities we serve. We've been leading change in care delivery for decades. Now, we have a unique opportunity to build on our history of innovation by creating an undergraduate medical education model that's powered by our physicians and care teams and reflects our dedication to the communities we serve. The Kaiser Permanente School of Medicine aspires to prepare a new generation of physicians to influence positive change within the U.S. health care system.
The decision to pursue a School of Medicine independent of an established academic institution may strike some as bold or audacious. But it will be a natural extension of our physician education and training programs—connecting the continuum within Kaiser Permanente from undergraduate, to graduate, to continuing medical education. Kaiser Permanente currently trains more than 600 new physicians in our residency programs every year. In addition, several thousand more residents and medical students, from more than 50 other academic institutions, complete a portion of their training at Kaiser Permanente facilities. We also provide continuing medical education for nearly 22,000 Permanente Medical Group physicians. The School will be embedded in Kaiser Permanente's nationally renowned health care system — which combines over 70 years of medical experience with advanced health information technology — moving beyond traditional health care settings, acknowledging the importance of team-based care, and promoting a focus on diversity and inclusion to deliver high quality health care that is person-centered, safe, timely, effective, equitable, and efficient.
Starting from Scratch
Because we get to start from scratch, we've been given permission to think outside the box. Who is an ideal medical student? How will our students experience medical school? How will we develop their professional identities as physicians—keeping them whole, well, and healthy as they enter the medical field, so they find meaning in their work and provide their future patients with the highest quality care and service? How do we teach the next generation of physicians to work in inter-professional, integrated teams, to manage practice data, and pursue continuous improvement in their workplaces? How do we prepare future doctors for what medicine will look like as the 21st century marches on? So far, our school feels innovative, fresh, and modern. Our students will have cutting-edge technology supporting their education and they will be able to seamlessly transition between learning and practicing medicine.
Structure
In designing the new School of Medicine, we are incorporating leading thinking into our curricular structure and our curricular map. As one might expect, we are seeing great opportunities along with some challenges. In terms of the curricular structure, we have been influenced by recent thinking in the undergraduate medical education community regarding Health Systems Science (HSS). The Flexner model of undergraduate medical education—two years of Foundational Sciences followed by two years of Clinical Sciences—has been considered outdated by many for some time and needs further modification to include HSS as a third pillar of the curriculum. From our viewpoint, HSS is the scientific approach to health systems and policy, population and community health, patient safety and quality improvement, the continuum of care, health information technology, and discovery and research in the practice of medicine. HSS is implemented at multiple levels from the individual patient and provider, to the care delivery system, the community, and society. Our future students will learn to apply HSS through a variety of educational activities woven across all phases of our curriculum. One challenge we face with incorporating the HSS pillar in our curriculum is that the HSS function in our delivery system is distributed and there is no specific HSS Department. But in the Kaiser Permanente School of Medicine, we will be creating a Health Systems Science Department that stands in equal stature with Foundational Science and Clinical Science Departments.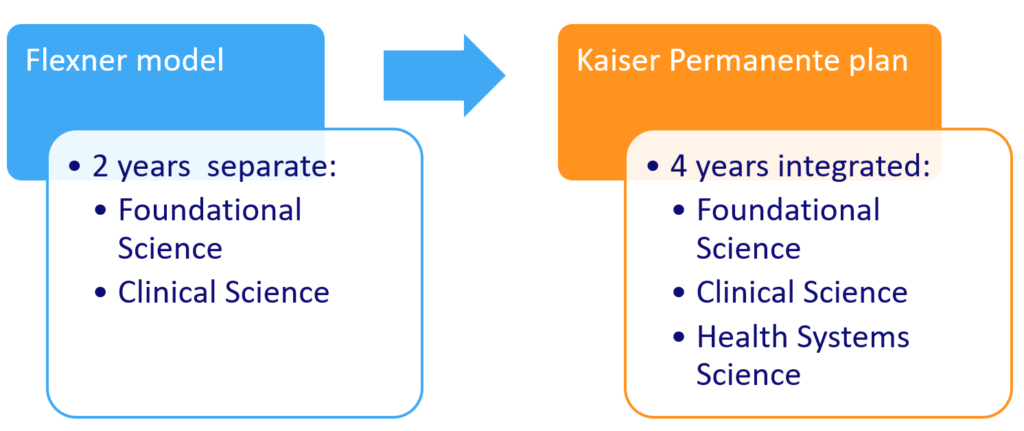 In addition, we are designing clinical experiences early in the curriculum. One of our unique contributions to the community of U.S. medical schools will be our ability to engage students in Kaiser Permanente's high-quality, high-value, integrated delivery system from the moment they walk through our doors. During their first year, one morning or afternoon per week, our students will participate on primary care teams in Kaiser Permanente medical centers—where they will not merely shadow their attending physicians but will assume useful roles in care delivery. During their second year, our students will complete their core clinical clerkships (i.e., Internal Medicine/Family Medicine, Pediatrics, Obstetrics & Gynecology, Surgery, and Behavioral Health) as Longitudinal Integrated Clerkships. Students will see their patients primarily in the outpatient setting, where most medical care takes place, and will work with a core group of clinical teaching faculty. From these apprentice-like experiences, students will come to understand how patients interface with the medical system and how care ranges from preventive to primary through the course of surgeries, pregnancies, medical emergencies, chronic diseases, and end-of-life care. These early clinical experiences will allow students to develop special areas of interest and to design more individually relevant third and fourth year educational experiences. Since we have more than one KP medical center in Southern California, but none that will be able to host all our students, we will likely be assigning them to selected medical centers in cohorts of 8. A significant challenge in this model is the need to ensure that students across locations are receiving comparable educational opportunities and making progress toward achievement of graduation competencies.
Moving Forward
Finally, throughout the process, we have had to balance our interest in undergraduate medical education innovation with the constraint of meeting licensing and accreditation requirements of three oversight bodies. From a curriculum standpoint, the most influential of these bodies is the Liaison Committee on Medical Education (LCME), jointly sponsored by the Association of American Medical Colleges (AAMC) and the American Medical Association (AMA). The LCME oversees accreditation of programs leading to the degree of Medical Doctor (MD) in the United States. We are currently working through the process and have moved from "Applicant" to "Candidate" status with the LCME. We will be hosting the LCME for a site visit in Pasadena later this year. Thereafter, if we are approved to move forward in the LCME's accreditation process, we will be able to announce an opening date and start accepting applicants for the first class of students. At that time, we will be closer to our aspiration of becoming an institution that will train physicians who will become exemplary leaders, scholars, innovators, and compassionate providers of health care.
About the author:
Dr. Craig Robbins has been a family physician with the Colorado Permanente Medical Group since July 1998. Dr. Robbins currently serves as Medical Director, Center for Clinical Information Services & Education, at The Permanente Federation and KP Care Management Institute. In this role, he oversees the KP National Guidelines Program, the KP National Clinical Library, and The Permanente Federation's Maintenance of Certification Part IV Portfolio Program. In addition, he is an organizational trustee on the Guidelines International Network Board of Trustees. Finally, he is a member of the KP School of Medicine Curriculum Committee, serving as co-lead for both the Health Systems Science curriculum and the Planning Committee for Program Evaluation, Assessment, and Improvement (PEAI). Dr. Robbins hails from the University of Michigan (BS '90, MD '93), the University of Virginia (Residency '96), and the University of Pittsburgh (MPH '98). He also completed a Faculty Development Fellowship in Family Medicine at the University of Pittsburgh Medical Center—St Margaret Hospital ('98).